Dishwashers: Maintenance Required
2/5/2021 (Permalink)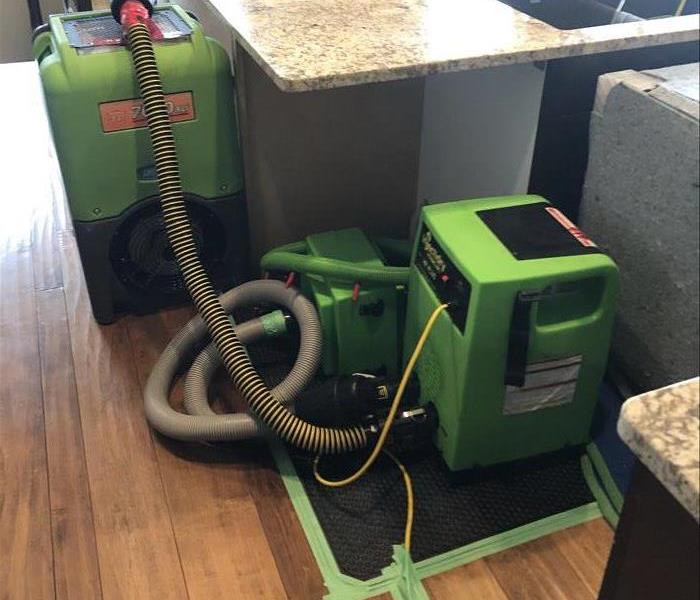 Drying hardwood flooring from a dishwasher leak with our SERVPRO Dri Eaz floor mat system & dehumidifier in Kelowna, BC.
Over the year's dishwashers have become an essential home appliance. They make our lives easier, save water, and stop us from having to wash dishes by hand.
Dishwashers are more energy-efficient and environmentally friendly than handwashing. Certified dishwasher use up to 12% less energy and 30% less water on average. Using a dishwasher can save 380 litres of water a week, when you use it every night instead of handwashing. That's over almost 19,000 litres in a year.
As much as we love our dishwashers, they can cause us some major issues if they are not regularly inspected and maintained. Did you know that 30% of water damage in residential homes are caused by appliance failure?
To avoid future water damage and/or large appliance repair bills you need to regular inspect, clean and complete maintenance on your dishwasher. Follow these simple steps to avoid possible water damage and extend the life of your appliance:
Ensure you dishwasher is on a level surface
Check for leaks:

Even if there is no obvious wear or leaks, replace hoses every five years. Use a reinforced steel-braided hose, as they are less likely to fail

Inspect & Clean spinning arms:

Check to make sure that the arms spin correctly and clean out any debris that has accumulated inside the holes

Clean edges, exterior & gasket:

Edges around the door do not get washed during a regular cycle and can end up with lots of spills and pieces of food debris

Unclog and clean the drain/filter:

At the very bottom of your dishwasher is the drain and filter, and this area can be a common place for food debris and buildup which can eventually cause a clog. On a regular basis, you should be disassembling your drain to remove debris. Here's how you can do this:

Locate your owner's manual and figure out what kind of filter your dishwasher has. If it's a manual filter, you will need to take it out and wash it
Unplug the dishwasher
Take out the screws and remove the cover
Clean out larger pieces by hand
Clean out smaller deposits with a brush or cloth
Wash filter
Reassemble
Run a short cycle with white vinegar or an approved dishwasher cleaning agent
If you experience a dishwasher leak, time is of the essence to reduce damage. Our team is available 24/7 for emergency services.