Flood: Can My Carpet Be Saved?
11/10/2022 (Permalink)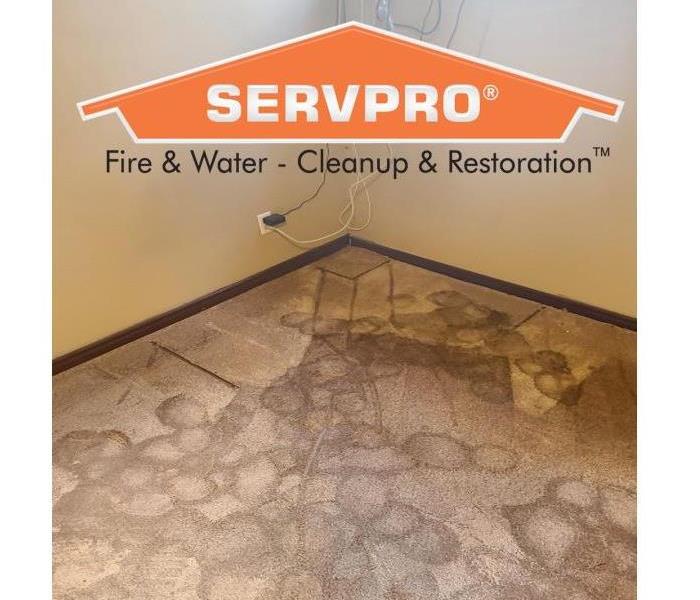 Basement flood in West Kelowna. Prior to mitigation the carpet was so saturated with water that footprints started to look like a design.
This is not a carpet design. This is a highly saturated carpet from a pipe burst in a basement wall; prior to our team extracting the water, removing the carpet pad, and placing drying equipment under & above the carpet.
During a flood in your home, many homeowners may wonder if their carpet can be saved.
The age and quality of the carpet and pad, as well as the category of water that flooded in the home is a key factor. In the restoration industry, we classify floodwater into three main categories.
Cat 1: Clean water- from a broken pipe or rainwater that has not mixed with any contaminants.
Cat 2: Greywater- is contaminated. This includes overflow from washing machines, dishwashers, toilet overflows with no solid matter, etc.
Cat 3: Blackwater- is highly contaminated. Examples include sewage, toilet backflows and weather disasters.
The water mitigation process should begin as soon as possible in any flooding event. Otherwise, the carpet can suffer permanent damage. To have a better chance of saving the carpet, contact a restoration professional immediately. We have the tools and expertise to extract, sanitize and dry the flooded carpet effectively.
In most Category 1 & 2 flooding, we can bring carpets back to life. The goal is not to replace but to restore.
A shop vacuum, towels, and home fans are no comparison for professional extraction and drying equipment. Every water damage situation is very different. Call the experts at SERVPRO. We are "Faster to Any Sized Disaster" and our goal is to have your home "Like It Never Even Happened"