Ozone Sanitation- Deodorization
3/9/2023 (Permalink)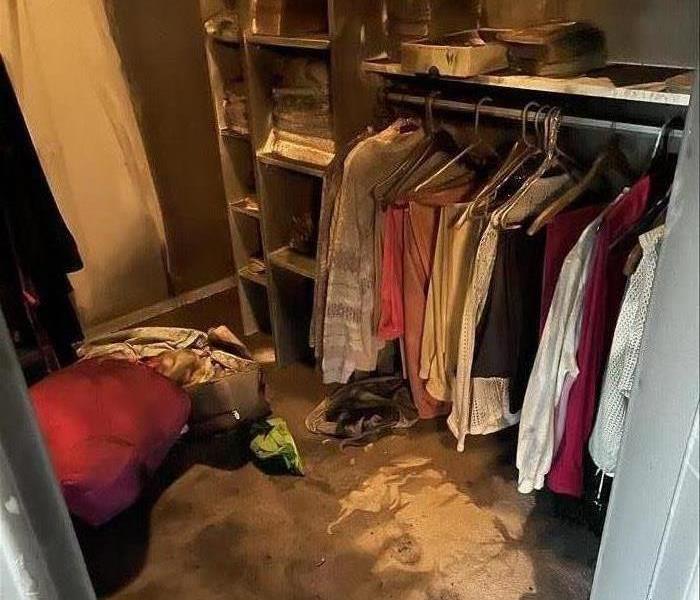 A walk-in closet with excessive smoke damage. Soft goods (clothing) were laundered and then received an ozone treatment to eliminate smoke odour.
Odour problems from smoke? Pets? mould?
In the restoration industry we use a technique called Ozone Sanitation to remove odour.
What is Ozone??? Simply put, it is oxygen with a higher energy level, sometimes called activated oxygen. It is highly reactive blue colored gas with a distinct smell.
Ozone (O3) contains three atoms of oxygen rather than two. Ozone can oxidize all types of materials and can eliminate odours by releasing and binding the extra oxygen molecule. Over time (usually a day or so) that molecule with dissipate and go back into its original form of oxygen……removing the odour…ta da!
SERVPRO of Kelowna offers this service using trained technicians, proper equipment and following safety guidelines.
In short, we place the affected items (let's say in this case a couch which has been in a home that was smoked in) into a vaporproof room. From there we electrically put Ozone in with a generator, using air movers to allow the ozone to disperse throughout the room.
After the couch spends a day in the ozone room and a few additional days "airing out" (letting the O3 dispel back to O2) the couch will have little to no lingering odour of smoke!!!
Ozone is EPA approved and environmentally friendly.